Promotion of research on immune regulation based on chemical biology
The National Institute of Biomedical Innovation, Health and Nutrition (NIBIOHN) and Graduate School of Science will promote the research on immune regulation based on chemical biology. will promote the research on immune regulation based on chemical biology. The development of vaccines and adjuvants is becoming increasingly important. NIBIOHN has investigated to develop innovative pharmaceuticals including vaccines and adjuvants and to improve the health of the Japanese. Therefore, this collaborative project will promote joint research on drug development and improvement of public health, focusing on immune regulation research.
FEATURE
Development of immunoregulatory technologies based on chemical biology
Interdisciplinary project involving collaboration among teams specializing in synthetic organic chemistry and immunology
Molecular basis elucidation of homeostasis and immunoregulatory functions focusing on glycolipids and glycans
RESULTS
Research progress
Remarkable vaccine adjuvant effects of glycolipids from gut-associated lymphoid tissue resident bacteria
Vaccine adjuvants are substances administered together with antigens in order to enhance vaccine effectiveness. We developed a novel glycolipid adjuvant, lipid A from Alcaligenes faecalis, which is a symbiotic bacterium in gut-associated lymphoid tissue, Peyer's patch. We achieved the chemical synthesis of A. faecalis lipid A and demonstrated that the synthetic lipid A shows effective immune activation in both mucosal and systemic immunity without excessive inflammation. The intranasal vaccine containing this adjuvant induced the excellent protective effect against pathogens in a mouse model.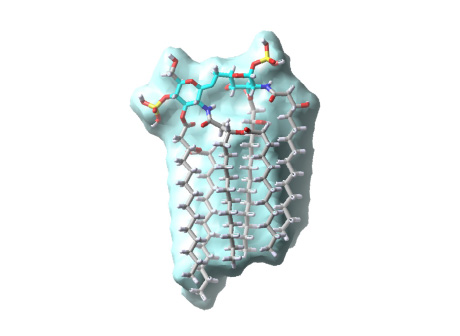 Further development
Development of effective and safe next-generation vaccine adjuvants
Since antigens alone do not effectively confer immunity, the addition of vaccine adjuvants is necessary to increase the efficacy of vaccines. However, it is not easy to develop vaccine adjuvants that are both effective and safe. The immunomodulating feature of commensal Alcaligenes faecalis that resides in lymphoid tissues inspired the use of Alcaligenes lipid A as a safe vaccine adjuvant. The chemically synthesized Alcaligenes lipid A enhances systemic and mucosal immunity to antigens without excessive inflammation. Alcaligenes lipid A can be applied to the development of various types of vaccines in the future.