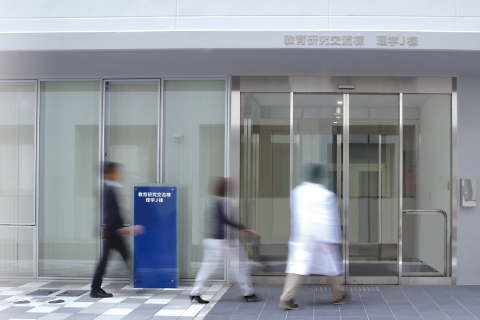 Pioneering new research areas
and achieving world-class research results
The Forefront Research Center (FRC), Graduate School of Science, Osaka University, was established on April 1, 2022, through a reorganization of the Project Research Center for Fundamental Sciences (PRC).
The PRC was established in October 2011 to carry out cutting-edge research projects led by faculty members of the Graduate School of Science. The aim was to promote intensive and dynamic research in cooperation with other academic fields. In the decade since its founding, the PRC has conducted 16 large-scale cross-disciplinary projects involving multiple departments and graduate schools. In addition, three joint industry–university research projects, which were previously rare for the Graduate School of Science, have been launched, thereby strengthening the ties between the university and the corporate world and opening the door to new possibilities for research. In 2015, we established the Challenging Exploratory Research Division with the aim of promoting challenging and emergent individual research, but only one specific theme was undertaken and sufficient results could not be obtained. In addition, there was insufficient support for obtaining large competitive grants and it was difficult to launch and complete new research projects involving multiple departments within the graduate school and across divisions within the university.
Therefore, to overcome this problem and promote cutting-edge research in the Graduate School of Science, the newly established FRC operates using a system in which several individual researchers are selected from each department and exempted from most non-research duties so they can devote themselves to research for about three years. In addition to achieving research results, we aim to develop new research areas, improve the level of research for the entire Graduate School of Science, and enhance the research reputation of Osaka University. Furthermore, research projects that contribute to cross-disciplinary research are selected based on proposals from outstanding project leaders and the FRC provides active support.
In this way, the FRC will promote the advancement of cutting-edge research and develop an environment to facilitate the highest level of original basic research.