Leading in cross-disciplinary research and opening the way to new science with development of innovative mass spectrometers
This project works in close collaboration with different fields and industrial sectors to lead cross-sectoral research, with a multi-turn time-of-flight (TOF) mass spectrometer (MULTUM), in order to open pathways to new science. The project works to develop original and creative high-performance mass spectrometers, ionization methods, detectors, and other systems for the next generation, and to cultivate the requisite professionals.
FEATURE
To develop original systems that "Render visible the previously invisible". Original systems designed to open the way to new science. "Geomics" for comprehensive analysis of the atoms and molecules that exist in the environment encompassing the earth and to facilitate understanding of the past and present earth environment and predict its near future.
RESULTS
Research progress
Advancing cross-sectoral multidisciplinary research
This project works for the development of original/cutting-edge mass spectrometers and for their utilization in applied research. The system developers and system users, in particular, perform research for the advancement of skilled interchange and cross-sectoral multidisciplinary investigations. Major research achievements include the following: (1) Cross-sectoral fusion research with a compact multi-turn TOF mass spectrometer as the core/Utilizing the high-resolution features obtained by the compact multi-turn TOF mass spectrometer developed by Toyota et al., we are advancing research and development for on-site measurement and discovery in various fields such as the medical diagnosis of periodontal and other diseases, on-site real-time measurement of gas emissions from soil, and planetary exploration. (2) Ultrahigh-resolution imaging mass spectrometry technology/We developed an image-projection mode imaging mass spectrometer that forms images on the detector immediately after wide-range ionization and high-resolution mass separation with the image maintained by a multi-turn TOF mass spectrometer. We recently engaged in the development of an imaging mass spectrometry technique for a single cell. (3) Ultrahigh-sensitivity trace-level mass spectrometry system/We constructed an isotope ratio measurement system using a TOF-SIMS unit that combines a focused ion beam, a femtosecond laser, and a multi-turn TOF mass spectrometer.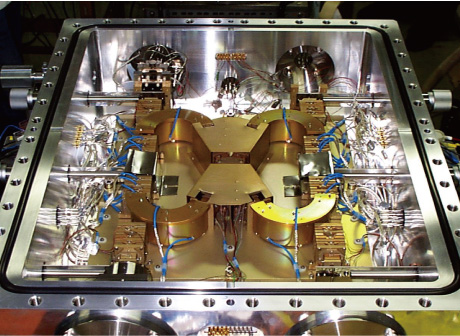 Further development
Development of new science that would have been impossible with previous technology
The Osaka University mass spectrometry group has a very long history and tradition inherited from Dr. Tsunesaburo Asada, who was brought to Osaka University by Hantaro Nagaoka, its first president. Together with this inheritance, the development of creative mass spectrometry technologies and the advancement of applied research using these technologies are in accord with the era in their work to "render visible the previously invisible". This reflects the desire to develop new sciences based on creative systems development. High-accuracy on-site mass spectrometry utilizing the distinctive features of multi-turn TOF mass spectrometers, in particular, promises to make contributions to new sciences that would have been impossible with previous technology through medical and environmental measurements, geochemical measurements, planetary exploration, and other applications.